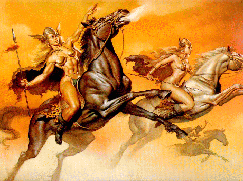 Adventuring Groups in Jersey's World

This page is dedicated to the many brave adventuring groups in Jersey's Fantasy World. Below you will find a brief description of the adventuring group, the members of each, and in some cases, the identity of the real person behind them. Some of the players can be reached by email. If you find any of these PCs interesting, you can email the player to learn more about the PC. For those without links, email the Dungeon Master and your comments and questions will be magically passed along.

The adventuring groups in Jersey's campaign world, as of Readying, 594, are

The Little Dragons of Chatwin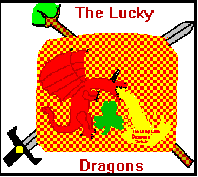 The Little Dragons, aka, The Fortunate Five, now down to two, met in Plainview where they stumbled upon and disrupted the beginnings of an evil religious cult. The mages in the group were looking for teachers, so the ranger suggested the village of Chatwin, his home at the time. Once in Chatwin the Little Dragons investigated an explosion at one of the town's mage's houses. Later they recovered some relics from a long forgotten tomb of evil. They also drove off some hobgoblins who were menacing the forests to the north.


They traveled to the coastal village of Saltmarsh where they were supposed to get some enchanted fruit. While waiting for the proper phase of the moon in which to harvest the fruit, they investigated a `haunted house' where they stumbled upon a smuggling operation and dealt it a disruptive blow.

The Lucky Little Dragons' nickname comes from the fortunate way they seem to come upon adventure and from the mascot they acquired during the smugglers' adventure. During this adventure, they also gained the smugglers' ship which they have renamed the Sea Host. They rent the ship out to the merchants of Saltmarsh until they need it themselves. After this adventure, Dax retired to the outskirts of Chatwin. Some say he found a woman and settled down. Penrose opened a locksmith shop in the village [#40]

In late 582, and into 583, Sigil, Galin, and Cymburr, with some others, traveled to the far south to a place called Fort Thunder. Only Sigil and Galin returned!

The Little Dragons are, or were::
Galin, male elf, 101 yrs, seventh level Priest of Pholtus, LG; AC 1, hp 55; W 18, D 15, C 15; shield; elven chain +2, Mace +1; potions of healing, heroism, levitation, shrink, sweat water; Spells: cure (x2), bless, light, dispel darkness; aid, chant, hold person, silence. Played by Nathaniel Leu.
Sigil the Spellcaster, human male, 17yrs, sixth level Envoker, CG; AC 2, hp 27; I 17, D 15, C 16; Bracers AC 5, Ring +1; Decanter of Endless Water, Robe of Blending. Spells: Alpha's sparkle beam, ... . Played by Greg Hum, who designed the Party's Symbol. Thanks, Greg. Sigil and Galin had decided to build a library somewhere in the village
Dax Di Bono, male human, 22 yrs, fifth level Fighter, NG; AC 0, hp 58; S 18:00, C 16; splint mail, shield +1; Long Sword +1 (sp); necklace +1; Wand of Magic Detection; potions healing, heroism, oil of sharpness; scroll of protection from poison. Now retired and living somewhere outside the village. Played by Jonathan Dubreuil.
Penrose, male halfling, 45 yrs, sixth level Rogue, CG; AC 2, hp 32; S 16, D 19, C 15; Leather +2, Ring +2; Short Sword +2, Dagger +1/+2 small; Boots of Elvenkind; potions of healing, ventriloquism. Penrose has a souvenir from every foe he has bested: a pinky here, an eyeball there! Now the village locksmith. Player by Chris Parker.
Follower: Grinkle, a hobgoblin whom they rescued from his own tribe in a keep in the north woods. He serves Penrose and is learning to be quick with his fingers.
Cymburr, male human, 23 yrs, sixth level Ranger, LG; AC 1, hp 60; S 18, W 17, C 16; Bracers AC 4, Amulet +3; Broadsword +2, Short Sword +2, dagger +1; Cloak of Elvenkind; potions of fire resistance, healing, invisibility, oil of sharpness, speed. Missing and presumed dead, as of Coldeven, 583. He returned to Chatwin sometime in 585. He is rumored to be living somewhere to the west of Chatwin.
Mascot: Pseudodragon, `Flare' AC 2, hp 15; MV 6/24B; HD 2, hp 15; MR 35%, which he usually conveys to Cymburr since it is with him he had bonded.
The nickname `The Fortunate Five' referred to Cymburr, Dax, Galin, Penrose and Sigil who have managed to survive the rigors of the adventuring life.
The Little Dragons are members of the LaurenHill Dragons, The Role Playing Games Club of LaurenHill Academy.

[TOP]
The Leavien Order of Fighters

The Order of Ley, as it is more commonly known, is beginning to attract a following to the Village of Chatwin. While no non-member knows the location of its secret training quarters, one can at least suggest the major members through various rumors.


[TOP]

The Chatwin Heroes met in the village of Plainview where they helped rescue a local girl from the clutches of evil and exposed the Mayor's son for the treacherous young man he was. They traveled to Narwell and eventually to Dyvers, enticed by offers of great rewards. Rumors of adventure and wealth took them through unexplained Mists, underground caverns, and once left them stranded on a rock island where they became pawns in a game between two evil spell casters. Eventually they came to the Village of Chatwin, a once proud little berg whose economy had gone downhill ever since its treasure disappeared some decades ago. They eventually recovered this missing treasure, though they had to go the corpse of and old red dragon to do it! In honor of their accomplishment, they where given commemorative medallions and took the name of The Chatwin Heroes.
Since that time, though they have made Chatwin their homebase, they have continued to adventure. They were almost devoured by a tree, drawn up to a floating castle, and for their last adventure, accompanied the brilliant spell caster, Miss Nottingham, into some lost caverns where they defeated some of the most amazing monsters ever dreamed up in anyone's imagination.
In Flocktime, 582, the four known as Gideon, Hadrian, Maxmillian and Quintos, traveled to Greyhawk City in search of great adventure! There they uncovered and thwarted the attempted take over of the city by a dangerous cult. To view the Free City and read Artemus' account of their adventures there click here.
The still active Chatwin Heroes are:
Gideon Trueflight, a halfling fighter thief, who always wanted to be a ranger. Gideon has never picked a pocket, but he does have a weakness when items of special enchantment come along. He has a Onxy Dog `Rufus', a Serpentine Owl `Oliver, and two Golden Spotted Lions named `Laine'. Gideon has a room in Hadrian's Tower. As well, he is the owner of the Silver Cloud Tavern in the village.
Hadrian Mindbendurr, a gnome illusionist, the master of the phantasmal force. He has convinced people that they have been struck by lightning, even when there was not a cloud in the sky. He owns a tower in the Village of Chatwin. Played by Nick Dinh.
Quintos Silverleaf, an elven fighter. Quintos is the creator of the order of Ley. He is the owner of the great long sword Justice. He is in the process of building a great keep north of the village. Played by Hakan Kilic.
Retired members include:
Ignatius Nusmith, a dwarven cleric of St. Cuthbert. Ignatius has a shield which contains an enchanted lion, `Simba' which responds to his call. Ignatius became obsessed with the ancient Lion Knights, a mythical man beast combination. Perhaps someday he'll find the answer to his quest. Played by Vince Wong.
Damien Winchester, a half elven cleric, who had a special knack for vanquishing creatures from other planes. Damien left on a quest of his own some years ago. He has recently returned, and is rumored to be in the Chatwin vicinity. Played by Kelvin Lee.
Mantis Tufeather, a junior druid of Welkwood Forest. Mantis has a log encampment in his grove in the eastern reaches of the Welkwood. He is a subordinate of Meriweather, the Arch Druid of the Welkwood. Played by Ranjit Sarai.
Maxmillian Sterling, a human fighter. Maxmillan was eventually drawn to the ways of true good after drinking from an enchanted pond. He posses the magical blade Fortune, a sword of good luck which does not care for evil spell casters, and Figurine of the Griffon, `Winnowil.' After the sucess of the visit to Greyhawk City, he retired to Griffon Castle. Played by Jimmy Dinh.

[TOP]
Company of the Cloak and Stone

The Cloak and Stone is a group which I play in the Forgotten Realms(TM) setting
The formation of the Adventuring Order of the Cloak and Stone resulted from the chance meeting of Fletcher, Wynonna and Bamfylde on a little used road somewhat east of Maskyr's Eye. As they reached the village, with light snow descending upon them and the temperature dropping, they pooled their resources and purchased three coarse green cloaks to fight off the chill. Days later, once they had exposed the truth in a decade's old mystery which had been plaguing the town, this with the help of Malachyte, each took a black stone gem as his reward. The Cloak and the Stone, then, became their symbols.

As a favor to Mayor Lanz, they helped his friends Ezban the Mage and Moritz his fighter companion from some Orcs. Their reputation in this region was secured. Since then their travels, in the cause of good, have taken them as far north as Mulmaster and as far south as Raven's Bluff. Wynonna has studied with Thurlock the Anagogue and cooked for Ambassador Carrague, and Fletcher and Bamfylde have served on the Night Watch of Raven's Bluff. While helping to guide a caravan south, they made the acquaintance of Indigo, who took a liking to their style and has since become a member of the company. He later introduced his sidekick, Tregar, to the ensemble.

While still in Raven's Bluff, at the Shod Talon Inn, they are planning a major trip to the ruins of Myth Drannor. They have also come into possession of what appears to be a lost artifact of great power. They are also seeking guidance as to what to do with it. For recent service, the Cloak & Stone has been awarded the Feather of Honor from the Knights of the Hawk.
The Order of the Cloak and Stone, as of Flamerule, 1357, is made up of:
Bamfylde O'Brien, male halfling, 48 yrs, seventh level Rogue, CG; AC 3, hp 46; D 18, C 17; leather, ring +1; short sword +2, rings of silence and jumping, serpentine owl `Telflare'; potions of climbing, invisibility, healing, polymorph, sweat water; scroll: protection from magic. NWP: appraising, blind fighting, disguise, set snares, swimming. Bamfylde approaches life and adventuring with a boyish exuberance and glee.
Fletcher Darkwind, male elf, 120 yrs, sixth level Ranger, NG; AC -1, hp 46; S 18:64, D 18; elven chain +2; long sword +2, sunblade +2; cloak of elvenkind, bag of holding, ioun stone of regeneration; potions of climbing, fire resistance, healing, heroism, speed. NWP: animal lore, animal training, bowyer/fletcher, hunting, survival, tracking. Fletcher has two war dogs, Morriah and Savannah, who obey basic commands. Fletcher only believes what he sees. He believes that Wynonna is the most beautiful creature he has ever seen.
Indigo Dreamstyre, male half elf, 30 yrs, fifth level Ranger, fifth level Priest of Lathander the Morninglord, NG; AC 4, hp 44; W 16, D 15, C 16; leather +2, ring +1, ioun stone +1; mace +2, club +1, sling +1; rings of free action and paralysis, scarab of protection, boots of springing and striding; potions of extra healing, healing, heroism, oil of impact; scroll: imbue with spell ability, locate object, remove curse. Spells: cure (x2), fairie fire, rosemantle ... ; aid ... ; prayer. NWP: appraising, artistic ability, musical instruments (lute/lyre), pottery, read and write, religion, survival, tracking. SA turns light sensitive undead at +4 his level. Usually calm, yet inquisitive, Indigo has proven himself to be quite fierce when acting in the cause of his deity.
Mousebane, Indigo's Talking Owl companion, AC 3; MV 1/36(C); HD 2+2, hp 12; LG; SD never surprised; MR 20%. Mousebane speaks common, Black Dragon, Centaur, Elf, Halfling, and Druidic. He has flown with Indigo since their chance meeting in a swamp, when Indigo and Tregar narrowly escaped a trap set for them by a werewolf and a vampire.
Malachyte Brandbardon, dwarven male, 55 yrs, fifth level priest, NG; AC -2, hp 40; S 15, W 17, D 17, C 17; banded mail +1, ioun stone +1; mace +1; potions of healing, sweat water; scrolls: resist fire, resist cold, dispel magic; protection from plants. Spells: cure (x3), light, detect magic; slow poison, wyvern watch ... ; prayer. NWP healing, herbalism, read and write, religion, rope use, stone masonry. A typical dour dwarf who seldom backs down from a fight. He yields to Fletcher concerning the need for battle, however.
Tregar Bittermouth, dwarven male, 54 yrs, fifth level Fighter, LG; AC 1, hp 60; S 16, C 18; splint, ring +1; shield +1; battle ax +2 (sp), bastard sword +1, dagger +2; ring of warmth, boots of varied tracks, brooch of shielding, amulet vs. undead (6th); potions of extra healing, healing; scroll of protection from undead. NWP endurance, hunting, mountaineering. He has been Indigo's boon companion ever since he was hired by Indigo to find some missing treasure and received half the reward as his payment. His bravery and loyalty has earned him many rewards from the other members. He is now considered a full member of the Company.
Wynonna, female human, 19 yrs, sixth level spell caster, NG; AC 1, hp 26; I 17, D 17, C 15; armor spell, ring +1, ioun stone +1; dagger +1; ring of spell storing (magic missile, wall of fog); wands of illumination, magic detection, magic missile, paralyzation, bag of holding; potions of healing, polymorph, water breathing; scrolls of: chill touch, teleport, wall of force; alter self, Snilock's snowball, spider climb; flame arrow, wall of fog, Tasha's laughter; gust of wind, massmorph; phantom steed, magic mirror (x2), dimension door; enchant an item. Spells: charm, sleep, unseen servant ... ; invisibility, ... ; protection from normal missiles. With black hair and crystal lake blue eyes, Wynonna is shyly beautiful. She is calmly aware of all that goes on. She prefers the company of the non-human males, the type with whom she has surrounded herself.



[Email the Pagemaker

[ TOP ][ Jersey's Journal ][Chatwin]

This page last updated March, 2004