A Garratt Locomotive for 7-1/4" Gauge.
The Boiler Frame & Cab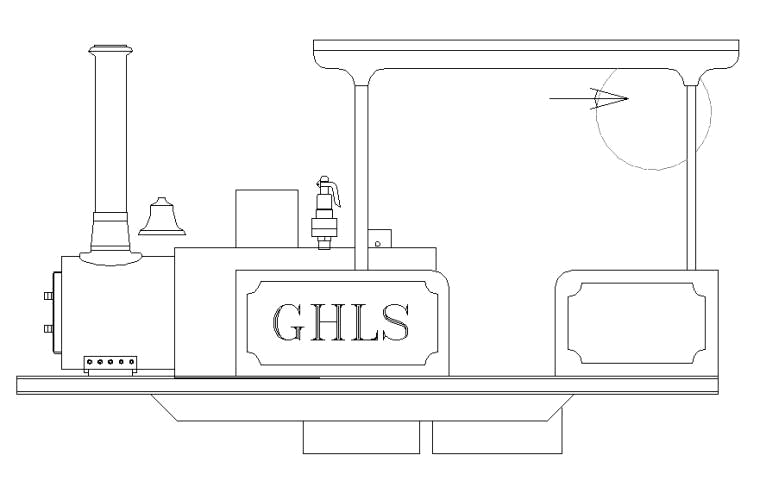 The boiler frame and cab was next on the list. The challenge here was to design a cab structure that would take a full-scale driver and yet not look too ugly or non-locomotive like. A search of library material on full sized 'prior art' turned up an interesting locomotive built for the Mayumbe railway in 1911 by St Leonard of Belgium. This "A" class engine was the first Garratt in Africa and had an open four-pillar supported roof with a distinctive side stiffener. The Mayumbe "B" class Garratts of 1919 were unique in having side tanks beside the boiler as well as tanks above the engine units. I have incorporated the look of the "A" class roof and something of the "B" class with the side bunkers on my engine.
I have kept a full spectacle plate cab front to provide smoke and cinder protection for the driver.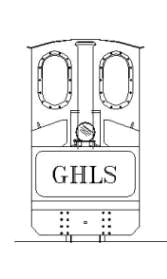 The actual boiler frame is a simple ladder construct of 1" x 2" steel channel with longitudinal stiffeners. The drivers feet are accommodated in a footwell to the rear of the ashpan.
---

An early fit-up of the boiler, smokebox and frame. The main purpose was to determine exactly the size and location of the smokebox supports so that the stack stayed dead straight.
---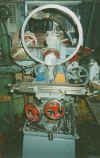 This was a convenient time to add cladding supports to the boiler before the platework started to get in the way. I set up the Burke horizontal mill with a grooved roller in the spindle and a pair of old fixed casters to 'roll my own' from 1/8" x 3/4" steel strip. This rig was also used to roll the curved cab roof beams from the same material.
---

With the boiler & smokebox assembly complete and the boiler frame tacked together. My friend Lise tries out the engineers seat.
---

A year into construction and it is looking like a locomotive! No wheels yet but Lise tries out the cab in October 2003 (in the rain!). The cladding rings can be seen clearly in this picture. The bell is an old school bell polished up nicely, the bell cradle was cast by Jim Small to patterns he made for a Maxi-Lucky 7 locomotive. It was pure luck that my bell fit perfectly in his cradle.
---

Photo: Arno Martens
Looking better in a coat of paint at the Toronto Christmas Train Show, Nov. 2003. The white finish on the boiler is the protective plastic coating on the stainless steel cladding sheets.
---
Continue to the Engine Units page.