Construction Millwright Union Member's site layout at a glance
Pg.1 Millwright job definition

What is a construction millwright?
Where are we found?
What do we really do at work?
Links to research info that union members need

Pgs.2 Union Logos & stickers:
Pg.3 More about the trade:

job description
skills and training
health & safety
statistics

Pg.4 Current stuff

millwright quiz
quick lesson
feature industry
links to archives & to manufacturers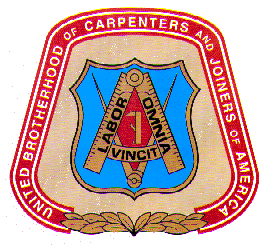 The job of
Construction Millwright
involves erecting, fabricating, installing, assembling, aligning, and adjusting of machines. We also maintain these machines, dismantle when required, move, reinstall, commission and repair them.
I am a proud working member of a United Brotherhood of Carpenters and Joiners of America (UBCJ of A) Millwrights local union, and I want you to have the answer to the ubiquitous question, "what is a millwright?". Well, it's only the best darn job in the whole world!
We can be found in all types of factories and power plants, wherever and whenever a company needs our services. Hired through contracting companies, we might do some work at an auto manufacturer one week and be repairing a nuclear power plant the next.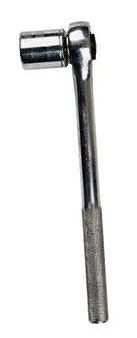 SOME OF THE PLACES WE WORK:
Airports
Aluminum & steel extrusion/tubing companies
Amusement parks (roller coasters!)
Automotive factories
Breweries
Cement plants
Container producers
Environmental industries
Food & Beverage industry
Distilleries
Glass Factories
Hydro/Nuclear plants
Manufacturing industries
Machine & Woodworking shops
Mining
Oil Refineries
Ore Crushers & Smelters
Petro Chemical plants
Pharmaceutical factories
Printing shops
Pulp & Paper mills
Rubber plants
Sewage & Water Treatment plants
Shoe factories
Steel mills
Sugar refineries
Warehouses with automated material handling systems
In short, millwrights are needed anywhere that shafting and machinery are used in manufacturing or transmitting power.
Some of the machines we work on may be conveyors and material handling systems (of any type including, just for example, bulk product buckets, baggage claim carousels, monorails, and package conveyer belts), robots, cranes, pumps, motors, fans, furnaces, turbines, dynamos, generators, compressors, agitators, chutes, concentrators, coolers, amusement devices and gaming machines, presses, crushers, and escalators. We will work on the pulleys, sheaves, flywheels, foundations, bolts, actuators, limit switches, legs, supports, guards, fencing, grillwork, gates, grating, hoppers, hangers, framing, locks, gears, clutches, couplings, bearings, shafts, seals, hubs, and valves for any of the abovementioned.
Our work can be done with hand tools, precision measuring tools (calipers, micrometers, plumb bobs, squares, etc); by cutting, bending, drilling, burning or welding; with power tools and shop machinery (lathes, milling machines, surface grinders, "ironworkers", punches, presses, rollers, etc); and by rigging and hoisting. We often work from and operate powered elevating 'man-lifting' equipment such as scissor lifts, "zoom boom" trucks, as well as forklifts and mobile cranes.
"The Millwrights: We Can Handle It"
---
Some mildly relevant links:

Political Action: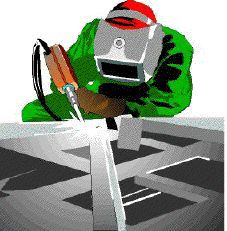 Millwright links:
the official Millwrights Regional Council of Ontario web site: http://www.millwrightsontario.com
the impressive personal web page of a brother construction millwright, "unionmillwright.com": http://www.unionmillwright.com. Note that this site's History page is well worth reading, and is a very complete explanation of where our trade comes from.
Trade & Apprenticeship links:
Union links:
Construction links
---
Does your union have a sticker or badge? Are you proud of it? View the union emblem collection pages, constantly under construction, and then add yours to the collection! E-mail it in a file to me at constructionmw[at]ca.inter.net and I will post it on the collection page.

Find out more about what it's really like to be a construction millwright: more details

Although I've been working on other projects besides my website (so this isn't updated often), the past items still attract interest so I've left them up. Test yourself on one of my old millwright quizzes, and learn about a spotlighted industry where millwrights can be found: current items page
---
E-mail regarding this page: I welcome questions regarding the trade of Construction Millwright, but I do not welcome ads for male enhancement products; therefore my e-mail is not a live link. Just copy the following into your e-mail, using an actual "@" symbol in place of the "[at]".
constructionmw[at]ca.inter.net
---
There are at least advantages to being a Union construction millwright!
---